In order to provide professional technical services to the national skycolor printer users, Zhengzhou New Century has to provide technical training to the national agent technicians every year. So far, 13 sessions have been held as scheduled. This year, the 14th National Agent Technical Training Meeting officially started in June and successfully ended on June 10.
In June of midsummer, this technical training of agents focused on H1-4 Eco Solvent printer, H1808 Eco Solvent high-speed printer, Mesh Belt 1903UV Printer and 1904 Mesh Belt Leather Printer. Around the functional characteristics and operation skills of printers, control software installation and operation, printhead and precision debugging, function and problem judgment of board, practice and theory are combined, supplemented by assessment summary, to ensure that technicians master all technical knowledge.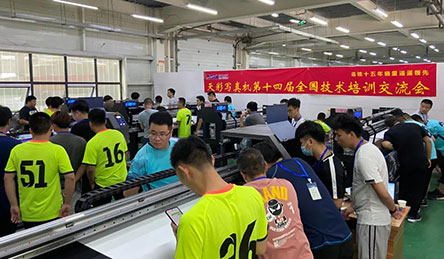 During the training, Zhengzhou had a high temperature of more than 30 degrees, and the weather was very hot, but this did not stop the enthusiasm of the technicians to learn new knowledge, and the training site had a strong learning atmosphere.
Combining work with rest, learning and training can get twice the result with half the effort. In the tense study schedule, Zhengzhou new century has specially arranged a football match to let everyone relax and enhance mutual understanding and communication.
After a week of hard work, all the technical personnel of the agents completed the training with excellent results. Zhengzhou new century issued the certificate of completion for each technician.
After this training, the professional skills of the technical personnel of SkyColor agents have been improved, and the technical knowledge has been enriched. SkyColor technical service team is always ready to provide users with better and more refined services.